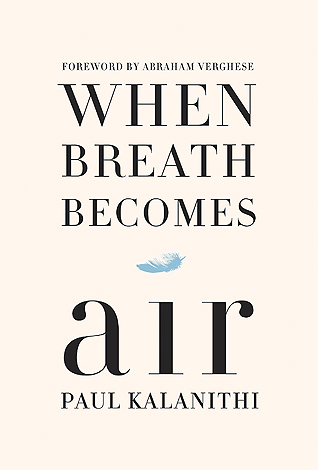 Publisher: Random House
Release date: January 12th 2016
Genres: Nonfiction, Biography, Medical
Pages: 208
Rating: ★★★★★ (5.00)
Goodreads rating:  4.32
Goodreads summary:
At the age of thirty-six, on the verge of completing a decade's worth of training as a neurosurgeon, Paul Kalanithi was diagnosed with stage IV lung cancer. One day he was a doctor making a living treating the dying, and the next he was a patient struggling to live. Just like that, the future he and his wife had imagined evaporated. When Breath Becomes Air, which features a Foreword by Dr. Abraham Verghese and an Epilogue by Kalanithi's wife, Lucy, chronicles Kalanithi's transformation from a naïve medical student "possessed," as he wrote, "by the question of what, given that all organisms die, makes a virtuous and meaningful life" into a young neurosurgeon at Stanford, guiding patients toward a deeper understanding of death and illness, and finally into a patient and a new father to a baby girl, confronting his own mortality.
My Review:
When Breath Becomes Air is a book that's equally beautiful and heartbreaking, incredibly sad, but full of hope at the same time.
It was the first biography I ever read and, honestly, I didn't know what to expect. But I saw it praised on goodreads many times (and rightly so), so I thought to myself: why not? Might as well give it a try. And I wasn't disappointed in the slightest.
Still, it was hard for me to rate this, because although it was a brilliant book, it wasn't "perfect" in all aspects and I'm not one to give five stars easily; here, I decided to make an exception. So, have in mind that I probably would've given this book four stars, if it were a normal book. But it wasn't normal and thus my heart told me to give it five.
Paul Kalanithi was a man filled with love. Love for literature, which he enjoyed since childhood. Love for medicine, which he acted out in his job as a neurosurgeon (and this job was for him not only work, but a calling). And, most of all, love for his family; love for his parents and his siblings and his wife and his daughter.
In this book, he tells us the story of his life. We see through his own eyes, how he grows from a child to a young adult to a student to a doctor to a husband, and finally, to a father. We are right there next to him, when he is looking for the meaning of life and death. And then, we are right there next to him, when he is faced with the truth of his illness and, therefore, his own mortality.
And through all of it, he stays strong and compassionate. And even while he himself is dying, he manages to create a book so full of life, it makes we want to recommend it to everyone who's ever felt lost in his or her own life. Because life is full of chances and we should use the time we are given to live as happily as possible.